SUPPLY CHAIN MANAGMENT
Our group of production network administration advisors has practical experience in enhancing the execution of your store network by meeting the correct cost focuses on your industry without a benefit level trade-off.
We cooperate with our clients with a center focal point of "conveying genuine results". Results, for example :
Helping with the advancement of a responsive and spry Supply Chain
Taking off enhanced stock administration programs
Presenting and Improving inbound and outbound coordinations execution
Enhancing distribution center execution
Giving contribution on request arranging and administration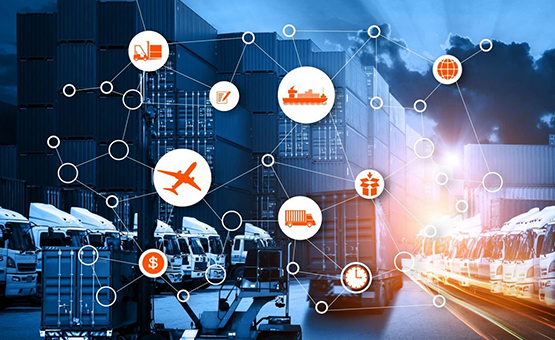 Warehousing & Distribution
Freight Consolidation
Order Management & Fulfillment
Customized Solutions
Supplier Management
Carrier Management
Contract Logistics
End-to-end services for your unique business needs
Your business is like no other. Supply Chain Management gives you an intricate ecosystem designed to make your supply chain work exactly like you want it to. Spedition gives you a set of tools to continuously improve, digitise and optimise your global supply chain while actively managing exceptions.
Logistics visibility
A multi-venture network interfacing all partners and showing the status of you material from start to finish.
Inventory collaboration

Gain multi-level visibility into materials, manage exemptions and satisfy client needs reliably
Order Collaboration

Team up with providers to automate get-to-pay measures and smooth work processes
Booking management

Taking and validating suppliers' booking through an automated online platform
Loading plan

Optimize customer's transportation cost through carefully planned loading and consolidation
Performance reviews

Conduct regular business review and continuously drive for improvement
Inventory Optimisation

enhance materials and finished goods at all stocking echelons while improving customer service and working efficiencies. materials and finished goods safety while improving client support and efficiencies.
Document Management

Complete exchange reports are gathered and communicated on schedule to objective; guarantee all transporter documenting are finished in an agreeable manner.
Supplier management

Collaborate with suppliers in every step for seamless flow of cargo, information, and documents
Shipment planning

Dynamic shipment planning helps customers to optimize shipping mode, route, and schedule
Destination services

Comprehensive destination services for efficient handover and end-to-end control
Quality checks

Customized cargo inspection as per customers' requirements

Contact our Customs Management experts
We're happy to talk to you about your Customs Management needs at anytime. Please feel free to contact us.